We are pleased to announce that we are opening another branch of Momokawa in NYC. We will soon announce the grand opening. The new restaurant will serve top quality meals served with the highest quality ingredients, along with a sushi bar led by chef Yutaka Murai with over 20 years of experience.
Phone Reservation: 212-256-0403
Business hours
Monday to Friday
11:45 to 15:00pm  / 17:00pm to 10:45pm
Saturday and Sunday
11:45am  to 10:45pm
"Simple and focused on ingredients" 
Our sushi is crafted in a traditional style highly focusing on the appreciation the of quality ingredients. We believe in "Sushi Syokunin" (The Mastery of Sushi Profession): it is finding a balance in delivering the highest quality sushi with a great dedication towards giving customers the best possible satisfaction we could give.
寿司懐石 – Sushi Kaiseki1 $128
8種の前菜と寿司9貫、甘味、抹茶
8 kinds of appetizers and 9 pcs sushi, dessert and a traditional maccha green tea
1At Sushi Bar Seats Only
8 Seats Maximum (Reservation Only)
握り寿司 – Assorted Sushi $29.00
中とろ, 漬けマグロ, 平目, はまち, 鮭, 海老, うなぎ, いくら, 玉子 , ねぎとろ
Chu toro, ZukeMaguro, Fluke, Yellowtail, Salmon, Shrimp, Unagi (Eel), Ikura, Tamago, 1 Negitoro Roll
Served with Miso soup & green saldad
お造り – Assorted Sashimi  $32.00
中とろ, はまち, 鮭, 海老, 蛸, 青柳又は帆立, 鯵
Chu toro, Yellowtail, Salmon, Shrimp, Tako, Orenge Clam or Scallop, Aji
Served with rice & miso soup
Sushi & Sashimi Combination  $35.00
刺身: まぐろ, 平目, 蛸, 鮭, 寿司: 中トロ, はまち, 海老, うなぎ, いくら, 玉子, 1/2 ねぎトロ
Sashimi: Maguro, Fluke, Tako, Salmon
Sushi: Chu toro, Yellowtail, Srimp, Unagi (Eel), Ikura, Tamago, 1/2 Negitoro
Served with Miso soup & green saldad
ちらし寿司 – Chirashi Sushi $28.00
Assorted Sashimi over a Bed of Sushi Rice
Served with Miso soup & green saldad
大トロ – O toro   MP
中トロ – Chu toro   $8
マグロ – Maguro   $6
とろたく – Toro-taku   $8
漬マグロ – Zuke Maguro   $6
鮭  – King Saimon   $5
かんぱち– Kampachi (Amber jack)   $5
はまち – Yellowtail   $6
平目 – Fluke   $5
金目鯛 – Kinme Dai   $8
しま鯵 – Shima (Aji Striped Jack)   $5
鯵 – Aji – Horse Mackerel   $5
鯖 – Saba   $5
海老 – Shrimp   $3
ぼたん海老 – Botan Ebi (Spot Prawn)   $6
松葉ガニ – Snow Crab   $4
烏賊 – Squid    $3
生だこ – Fresh octopus   $5
蛸 – Tako   $3
いくら – Ikura   $5
明太子 – Mentaiko   $3.5
雲丹 – Uni (Maine)   $7
青柳 – Orange Clam   $3.5
帆立 – Scallop   $3.5
みる貝 – Giant Clam   MP
穴子 – Anago (Sea Eel)   $7
うなぎ– Unagi (Eel)   $5
玉子 – Tamago   $3
ねぎとろ – Fatty Tuna w/scallion   $9
とろたく – Toro-taku   $9
鉄火 – Tekka(Tuna)   $7
スパイシーツナ – Spicy Tuna   $7
はまちねぎ – Yellowtail w/scallion   $7
うなぎとアボカド又は胡瓜 – Eel w/ Avocado or Cucumber   $8
かっぱ巻 – Kappa (Cucumber)   $5
かんぴょう – Kanpyo (Calabash)   $5
アボカド – Avocado   $5
梅しそ – Ume Shiso   $5
納豆 – Natto   $5
三つ葉 – Mitsuba   $6
酒肴(冷) –
Traditional Japanese Cold Sake Appetizer (Small Plate)
黒枝豆 – Kuro Edamame $6.00
Boiled prime young soybeans in the pod
ピリ辛こんにゃく – Kaminari Konnyaku $6.00
Spicy Yam cake/soy sauce, red pepper, sesame oil, bonito broth
ほうれん草 御浸し  – Spinach Oshitashi $6.00
蛍烏賊沖漬 – Okiduke* $7.00
Fire squid marinated in soy sauce
炙り明太 – Aburi Mentaiko* $9.00
Seared marinated roe of pollock
塩キャベツ – Lightly pickled cabbage $6.00
Green cabbage with lemon, ginger, bonito broth
ぬか漬けとお新香 – Nukazuke & Oshinko $7.00
Homemade Japanese Nuka duke pickles assortment
自家製ざる豆腐 – Zaru Tofu – Yakko $8.00
Homemade Tofu w/ Scallion & Ginger
自家製胡麻豆腐 – Goma Tofu* $7.00
Sesame Tofu, Uni & Wasabi
茄子煮 – Nasu Ni $7.00
Egg Plant In Soy Sauce Broth
蛸と烏賊ニンニクとネギ,美味しいお醤油 – Tako & Ika, Ninniku, Negi Oishii Soy sauce $10.00
Octopus, squid garlic and scallion with prime soy sauce
鴨冷製 – Kamo Reisei $10.00
Braised Duck Breast Marinated in Red Wine & Soy Sauce Broth served w/ Mixed Green
酒肴(温) –
Traditional Japanese Hot Sake Appetizer (Medium Plate)
地鶏出汁巻卵 – Jidori Dashimaki $10.00
Japanese omelet /Organic egg, bonito broth, soy sauce
黒豚角煮 – Buta Kakuni   $12.00
Berkshire Pork Belly in Brown Sugar Soy Sauce Broth
地鶏から揚げ – Tori Kara age   $8.00
Soy Marinated Organic Fried Chicken
地鶏黒酢 – Tori Kurozu   $12.00
Organic Chicken with black vinegar served with watercress and pine nuts
揚げ出し豆富 – Agedashi Tofu   $11.00
Deep fried organic tofu w/ grated radish sauce with nameko mushroom/ginger, scallion
じゃこと水菜サラダ   $13.00
– Jako & Mizuna Salad
Mizuna Leaf, Crispy Baby Anchovy, Onion Bonito Flakes, Tomato w/ Wasabi Soy Sauce Dressing
炙りぶりのサラダ – Aburi Buri Salad*   $15.00
Seared Hamachi, Mixed Green, w/ Spicy Ponzu Vinaigrette
蛸とクレソンのサラダ  – Tako & Cresson Salad  $14.00
Octopus, Watercress, Walnuts, Sesame Oil, Wasabi Soy Sauce
海藻サラダ  – Kaiso Salad   $9.00
Seaweed salad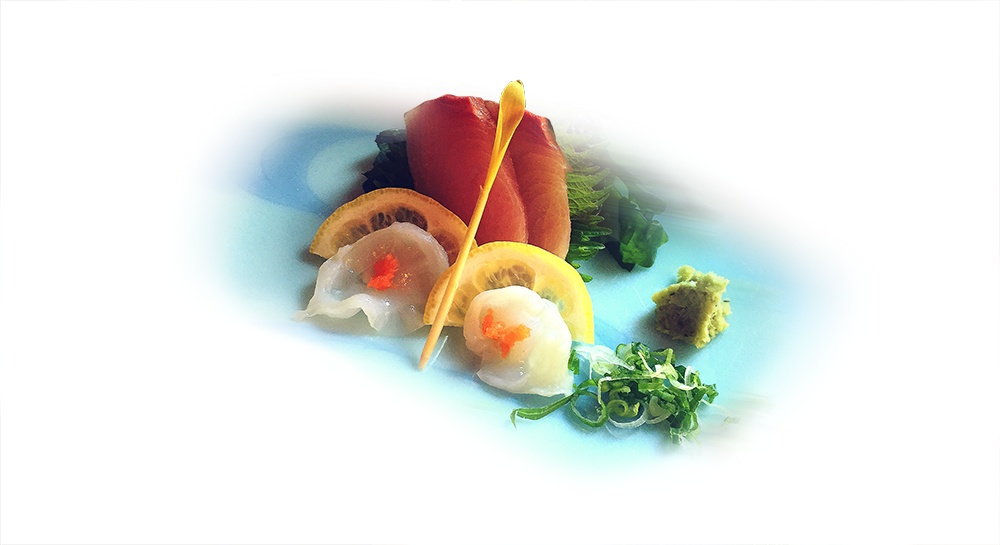 スープと麺・ご飯物 – Soup / Noodle
蛤ラーメン – Clam Ramen noodle   $15.00
鴨ラーメン – Duck Ramen   $15.00
鶏と温玉親子煮込みうどん –  Chicken Oyako Udon   $13.00
Organic Chicken and soy sauce broth udon noodle /soft boiled egg, mushroom, scallion, mizuna, sesame seeds
温玉、湯葉、雲丹乗せ冷たいそうめん –  Somen Noodle   $15.00
Soft boiled egg, yuba, uni over the chiled thin wheat noodle
牛とレタス春雨の黒酢鍋 – Beef Nabe   $14.00
Beef, Lettuce, Ginger & Crystal Noodle in Black Vinegar Broth
牛すじ鍋 – Gyu-Suji Nabe   $12.00
Tendered Beef Tendon, Daikon, Scallion & Tofu in Salt Based Broth
京都石野の赤出汁味噌汁 – Akadashi-miso soup   $5.00
Ishino-akamiso from Kyoto
蟹茶碗蒸し  – Chawan-mushi   $8.00
Egg custard with Crab meat
魚と煮物 – Grilled & Simmered Dish
銀鱈味噌幽庵焼き – Gindara Miso Yu-An Yaki   $19.00
Black Cod marinated in sweat citrus miso
おらと海苔だれ – Otato Nori Dare   $15.00
Pan sautéed orato served with seaweed sauce /swiss chad, rice cracker, ginger
お食事セット(ご飯、お味噌汁、サラダ) – Set Menu +$7.00 – Rice + Miso Soup + Salad
しゃぶしゃぶ  – Shabu Shabu  /  すき焼き  – Sukiyaki
しゃぶしゃぶ  – Shabu Shabu
(from 2 people)
アメリカプライム牛 – US Prime Beef Rib-eye $52
–
和州牛 – Washu Beef (All Natural) $76
–
宮崎牛 – Miyazaki Beef (All Natural) $124
–
鰤 – Yellow Tail $74
–
鴨 – Duck $50
in Onion Soy Sauce Broth
–
地鶏 – Chicken (All Natural) $45
すき焼き  – Sukiyaki 
(from 2 people)
アメリカプライム牛 – US Prime Beef Rib-eye $52
–
和州牛 – Washu Beef (All Natural) $76
–
宮崎牛 – Miyazaki Beef (All Natural) $124
–
地鶏 – Chicken (All Natural) $45
Additional Single Item
アメリカプライム牛 – US Prime Beef Rib-eye $19.00
–
和州牛 – Washu Beef (All Natural) $30.00
–
宮崎牛 – Miyazaki Beef (All Natural) $53.00
–
鰤 – Yellow Tail $29.00
–
鴨 – Duck $16.50
–
地鶏 – Chicken (All Natural) $15.50
–
野菜盛合 – Assorted Vegetables $8.00
–
野菜各種 – Single Vegetable items $4.00 /each
Lunch Specials (11:45 AM to 3:00 PM)
ミニ鉄火丼とうどん $25.00
Mini Tekkadon & Udon 
Tuna Sashimi over Sushi Rice & Hot or Cold Udon
ミニちらし寿司 $18.00
Mini Chirasi & Udon (Hot or Cold)
雲丹、いくら、帆立丼 とうどん $23.00
Uni Ikura scallop over rice
With seaweed, Japanese pepper, scallion, wasabi, sesame seeds rice cracker
鮭といくらの親子丼とうどん $17.00
Salmon flakes and ikura oyako don 
10 oz. プライムビーフハンバーグ定食 $23.00
US beef Hamburger Steak over rice
地鶏鶏唐揚げ定食 $15.00
Organic Fried Chicken Lunch
海苔だれ焼き魚丼 $18.00
Pan Sautéed White Fish
with seaweed sauce over rice with miso soup
地鶏甘酢丼 $16.00
Fried organic chicken with sweat black vinegar sauce
over rice/pine nuts, watercress
温玉、湯葉、雲丹乗せ冷たいそうめん $13.00
Soft boiled egg, Yuba, Uni over the child thin weheat noodle
with Bonito broth, okura, ginger
鶏と温玉煮込み親子うどん $13.00
Organic Chicken and soy sauce broth udon noodle
with mushroom, scallion, mizuna, sesame seeds
鴨出汁ラーメン $15.00
Duck Ramen 
アメリカプライム牛しゃぶしゃぶ又はすき焼き(一人前) $22.00
US Prime Beef Shabu Shabu or Sukiyaki for 1
和州しゃぶしゃぶ又はすき焼き(一人前) $34.00
Washu beef Shabu Shabu or Sukiyaki for 1
宮崎チャンピオン和牛しゃぶしゃぶ又はすき焼き(一人前) $58.00
Miyazaki champion Wagyu Beef shabu shabu or sukiyaki for 1
Sushi Entrée
握り寿司 – Assorted Sushi $25.00
中とろ, 漬けマグロ, 平目, はまち, 鮭, 海老, うなぎ,
いくら, 玉子 , ねぎとろ
Chu toro, Zuke Maguro, Fluke, Yellowtail, Salmon, Shrimp, Unagi (Eel), Ikura, Tamago, 1 Negitoro Roll
Served with Miso soup & green saldad
お造り – Assorted Sashimi  $28.00
中とろ, はまち, 鮭, 海老, 蛸, 青柳又は帆立, 鯵
Chu toro, Yellowtail, Salmon, Shrimp, Tako, Orenge Clam or Scallop, Aji
Served with rice & miso soup
Sushi & Sashimi Combination  $31.00
刺身: まぐろ, 平目, 蛸, 鮭,
寿司: 中トロ, はまち, 海老, うなぎ, いくら, 玉子, 1/2 ねぎトロ
Sashimi: Maguro, Fluke, Tako, Salmon,
Sushi: Chu toro, Yellowtail, Srimp, Unagi (Eel), Ikura, Tamago, 1/2 Negitoro
Served with Miso soup & green saldad
ちらし寿司 – Chirashi Sushi $24.00
Assorted Sashimi over a Bed of Sushi Rice
Served with Miso soup & green saldad
Side Dish 
Swiss chad $6.00
Rice $2.50
Jako & kale mixed rice $5.00
Edamame $6.00
Pickle like cabbage $6.00
Beverage 
柚子カクテル $12.00
Yuzu cocktail with shiso leaf
山葵ブラッディマリー $12.00
Wasabi Bloody Mary (soju)
梅酒カクテル – Plum Wine cocktail $12.00
ランブルスコ – Lambrusco $12.00
ピンク プロセッコ – Pink Prosecco $12.00
キリンビール – Kirin Beer $7.00